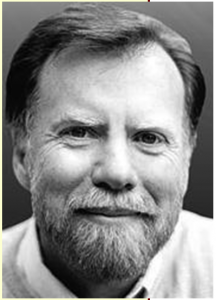 Gordon Neufeld, Ph.D er udviklingspsykolog fra Vancouver, Canada, med over 40 års erfaring fra arbejdet med børn og unge, samt voksne med ansvar for dem. Som førende autoritet, hvad angår forståelsen af barnets udvikling, er Dr. Neufeld en internationalt anerkendt foredragsholder, forfatter til bestselleren "Hold On To Your Kids" og en ledende fortolker af det udviklingspsykologiske paradigme. Neufeld har ry for at kunne gøre selv komplekse problemstillinger forståelige, og byggende på denne indsigt, bane vej for udvikling. Mens han tidligere underviste på universiteter foruden at drive privat praksis, vier han nu sin tid og sine kræfter på at undervise mange forskellige faggrupper. Hans Neufeld Institute  er blevet en verdensomspændende velgørende organisation med det formål, at formidle det udviklingspsykologiske paradigme i opdragelse og undervisning af børn og unge.
I det følgende kan du læse lidt om Gordon Neufelds baggrund.
Biographical highlights
received his undergraduate degree from the University of Winnipeg and graduate degrees from the University of B.C. His doctorate was received in 1975 for study and research in the fields of clinical and developmental psychology. He received distinguished awards for both his academics (Governor General's Medal) and his doctoral research (BC Psychologists Award).
taught highly popular courses in personality theory, developmental psychology and parent-child relationships at the University of British Columbia for almost 20 years. This broad exposure to academic theory and research provided a strong foundation for ultimately forming his own comprehensive theory of human development.
worked in forensic psychology for several years, specializing in the area of violent young offenders. His immersion into a culture of aggression and violence propelled his attempts to make sense of this dark dynamic from inside out and ultimately resulted in a ground-breaking theory of aggression.
worked as a therapist and consultant for 40 years (now retired) pioneering the parent consulting approach to the treatment of children. This approach focuses on helping parents become the answer to their children regardless of the origins of the troubling behaviour. The parent consulting approach puts parents back into the driver's seat with regards to their children. He now trains other therapists in this treatment modality.
authored (with the help of his colleague Gabor Mate) the bestseller Hold On To Your Kids in 2004, published by Knopf Canada and then Random House of New York. The book is about the pivotal role of the child's relationship to the adults responsible for them, both for the healthy development of the child as well as for the ease and effectiveness of raising the child. The book was re-released in 2013 with two added chapters on raising children in a digital world. This book is now published in over 15 languages.
developed a comprehensive theory of how children come to realize their potential as human beings and of the role of adults in this process. This theory builds on attachment and developmental science and explains problems and phenomena that could not otherwise be satisfactorily explained, including aggression, shyness, bullying and counterwill. This life's work is referred to by others as Neufeld's attachment-based developmental approach.
received the Circle of Courage award in 2006 from Reclaiming Youth International for speaking out concerning the pivotal role of relationship with regards to the care and education of our children and youth. The Circle of Courage was also awarded in recognition of the congruence of Neufeld's attachment-based developmental approach with the core aboriginal values of belonging, generosity, mastery and independence.
launched a personal internship program in 2006 after being persuaded by a growing group of educators and helping professionals who wanted to study more intensely with him. This program became the Neufeld Institute (registered in Canada as a nonprofit charitable organization) and has grown to span seven languages and now includes training programs for those who wish to facilitate his courses and for therapists seeking support in applying this approach through parent consulting.
created over twenty courses that make sense of children to the adults responsible for them. Some of these courses are being taught in universities and many of these courses are being translated into different languages. Through the Neufeld Institute, these courses are available through online technology to educators, helping professionals and parents throughout the world.